Take the next step in your career!
Connect with our recruiters to learn about open roles and future career opportunities.
Why Gallagher?
By joining Gallagher, you will become part of our 95-year history and a record of accomplishment based on ethical decision-making. Our Company was founded in 1927 and has its headquarters in Rolling Meadows, IL, USA. We are the 4th largest insurance and reinsurance broker in the world, listed on the New York Stock Exchange (AJG) with access to all London markets, and ranked as one of the world's most ethical companies for the 10th consecutive year. We are more than 45,000 colleagues worldwide with more than 700 sales and service offices around the world in over 150 countries.

In Latin America, we have a presence in Colombia, Peru, Ecuador, Chile, and Brazil.
COLOMBIA
Here at Gallagher Colombia, we are a team of innovators working to address new risks and solve problems to make life easier for companies of all sizes in more than 130 countries.

Our teams in Colombia are located in four major cities and work with clients providing all their insurance, risk management and reinsurance expertise. They help organizations address the growing threat of cyber-attacks with our market-leading cyber product, and work with their HR and benefits teams to create an environment that inspires their employees to do their best personally and professionally. We actively participate in our local communities by volunteering on a regular basis and raising money for various charities and causes.


Insurance Brokers: Company that brings together the supply and demand of insurance. Intermediates between the policyholder (an insured) and an insurer in an insurance contract. Supervised by the Superintendencia Financiera de Colombia.
Reinsurance Brokers: Responsible for the intermediation of reinsurance contracts between the insurance company and the reinsurer. Supervised by the Financial Superintendence.
Consulting: Risk management systems, organizational resilience, integrated talent management, risk engineering, risk quantification, and claims management.
GECA: GECA Gallagher Allied Center of Excellence is a limited liability company, which is dedicated to the provision of services to allies without engaging in the activity of insurance intermediation.
Learn More >
PERÚ
Gallagher Peru is a leading organization that serves the market by managing all lines of Insurance and Reinsurance. We have specialized teams in the lines of Property and Casualty and Human Risks, also providing advice on risk prevention.

As the fourth largest insurance broker in the world and number 1 in the Peruvian reinsurance market, we help our clients meet a full range of insurance, reinsurance, risk management and consulting service's needs. Our team has local expertise, backed by global teams, to help your business grow and the community and people thrive.

Our Peru office provides solutions and expertise in insurance, risk management, reinsurance, and HR and employee benefits consulting to help you face the future with confidence.

We are proud to have been recognized by the Ethisphere Institute as one of the World's Most Ethical Companies® for eleven consecutive years, and we embrace a culture of diversity and inclusion on a global scale Learn More >
BRAZIL
We are Gallagher Brazil, a global insurance and reinsurance broker, and we are among the world's top three in risk management and benefits consulting. Much more than just an insurance broker, we are an international group of partners that provide cost-effective, client-centric risk management solutions based on their expertise. Our leadership team fosters a dynamic and entrepreneurial culture that has made us innovators in creating new products and services for our clients.

Our unique culture guides how we do business and is described in a series of 25 principles called The Gallagher Way. These values are evident in everything we do, and as a result, Gallagher has been named one of the world's most ethical companies, an award we have received for ten consecutive years.

Our more than 30,000 expert advisors are an integral part of your local business community. Wherever you are in the world and whatever your industry, we create and uphold a unique culture based on solid values, collaboration, and professional excellence. Since 1927, we have worked closely with our clients to find effective solutions to their challenges and help them face the future with confidence.

With all our expertise, we landed in Brazil bringing all the experience of the group. Our consolidated trajectory mixes a startup mindset, with innovation and entrepreneurship, bringing together a team of great references in the Brazilian market. Learn More >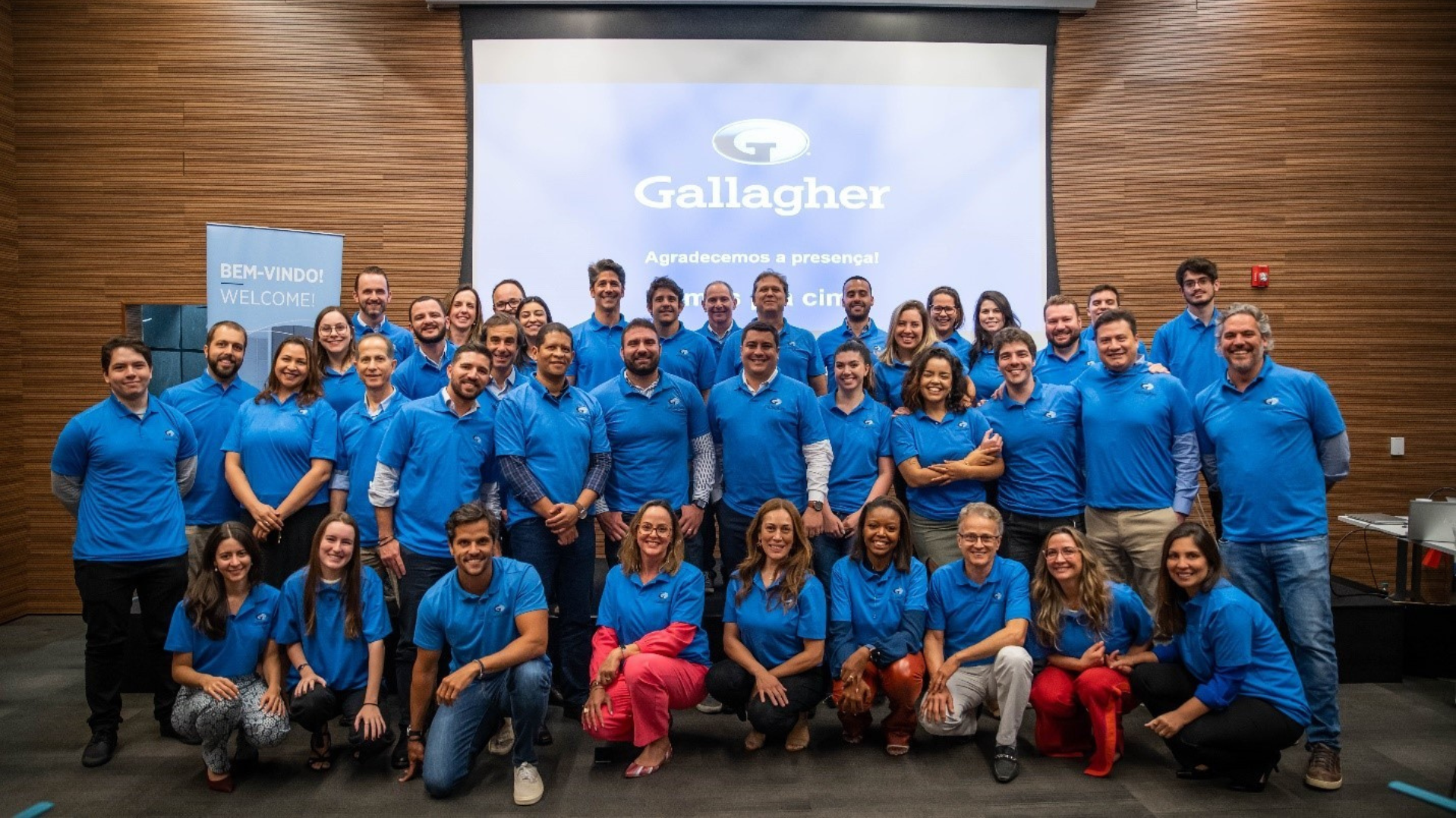 CHILE
In June 2013, Gallagher Chile opens to the national market, with the Reinsurance Broker, positioning itself until today as one of the most important companies in the national and international market. In 2015, it is the turn of the General Insurance Broker, establishing offices in Santiago and Viña del Mar. Today we have more than 156 collaborators who are part of our success and who every day give their best in favor of our growth.

We are located in El Golf neighborhood, close to our strategic partners, surrounded by green areas that undoubtedly raise the spirit and close to all the services you may need. Based on our principles The Gallagher Way we live our culture day by day, establishing respect among all and enhancing the personal and professional growth of our employees, where we seek excellence and closeness to our customers.

In our company there is space for each generation, thus coexisting the experience of the years with the impetus of youth, where all voices have their space. Thus, we have a program for Young Professionals where we reserve a space for them to learn and develop their careers and prepare them to be, in the near future, our new leaders. We also have alliances with different universities to offer students from different careers a space for them to do their professional internships with us and start their working life with Gallagher.

Every day we work hard to take care of those who work with us to provide them with a warm, respectful and learning environment. Learn More >
"Working at Gallagher is synonymous with passion and dedication." In over a year, I have met people who always go the extra mile in their job because they are born with it and because they really love what they do. I am convinced that when one works with love and pleasure it transmits to the final customer. That gift of people is what characterizes us, teamwork is, without a doubt, one of the greatest strengths we have and is what inspires and motivates me every day to give my best. I feel immensely happy to be part of this great family."


Lorena Gomez
Assistant Customer Service Manager
"Arriving to Gallagher has been a great experience, I feel highly identified with the team, the company and all its benefits, I understood how important human talent is." I am willing to take on new challenges from the hand of growth and stability that the organization offers me. Here I have my professional project clear to meet all proposed objectives."


Carlos Eduardo Correa
Process Optimization Analyst
"We are very proud to be 7 years at Gallagher Colombia. We have seen the company grow in leaps and bounds without losing the values of teamwork, innovation and loyalty that we started this dream with." "To us more than a company, Gallagher is our family and we hope to continue to work to grow it year after year."


Catalina Camargo & Jose Carrión
Placement Director & Manager of Autos & Marine
"Being a part of the Gallagher family is a rewarding and enriching experience." I have the privilege of learning from great professionals who not only train me day to day, but are always ready to help me. I have a work team characterized by kindness and the best attitude to achieve all the proposed goals. "I wish to continue growing, challenging myself both professionally and personally and learning at every step of everything that you offer me as a company."


Paula Andrea Flórez Arroyave
Account Executive, Medellín office
"Gallagher Colombia is a young company and with an impressive human talent, we have one of the best qualified teams on the market, at the racer level." The above translates to competitiveness being embedded in our DNA. We like to win and lead the way within a healthy competition, so we challenge ourselves every day to get our customers and prospects to a different level moving our company forward. "


Jorge Avila
Commercial Vice President Gallagher Re
Connect with Us!
Sign up for our talent community to learn more about opportunities at Gallagher.
Join Now
Equal Opportunity Employer
Gallagher believes that all persons are entitled to equal employment opportunity and prohibits any form of discrimination by its managers, employees, vendors or customers based on race, color, religion, creed, gender (including pregnancy status), sexual orientation, gender identity (which includes transgender and other gender non-conforming individuals), gender expression, hair expression, marital status, parental status, age, national origin, ancestry, disability, medical condition, genetic information, veteran or military status, citizenship status, or any other characteristic protected (herein referred to as "protected characteristics") by applicable federal, state, or local laws. Equal employment opportunity will be extended in all aspects of the employer-employee relationship, including, but not limited to, recruitment, hiring, training, promotion, transfer, demotion, compensation, benefits, layoff, and termination. In addition, Gallagher will make reasonable accommodations to known physical or mental limitations of an otherwise qualified person with a disability, unless the accommodation would impose an undue hardship on the operation of our business.
Avoid Phishing Scams
Gallagher never extends an offer of employment or requests any personal identification information without having received an online application and conducted one or more in-person or video interviews. We also do not use Skype, Zoom, Telegram or Gmail as part of our hiring process. If you have received any communication referencing the offer of a job at Gallagher and you have not submitted an online application or been interviewed by a Gallagher employee, please do not assume that the offer is being sent from a legitimate Gallagher representative.